General Construction & Plant Details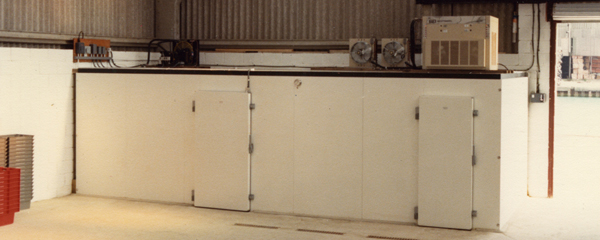 Storage Temperatures
Flowers & Fresh Herbs + 4°C
Fruit & Veg + 4°C
Dairy Products + 4°C
Meat (cooked) + 4°C
Meat (raw) + 4°C
Fish -1°C
Pre Frozen Foods -20°C
Ice Cream -25°C
Construction
At BG Slattery & Son, we offer a tailored solution to meet your cold storage requirements. If your coldroom needs to go below 0 °C, we advise fitting an insulated floor. This is reinforced with 18mm hardwood plywood then covered with either Poly-safe flooring or aluminium tread plate.
Staying above 0 °C? Your existing floor can be used if it's flat, level and smooth. It can also be tiled after installation. Freezer rooms over 4m wide may require a heater mat to stop ice forming in the building's floor pad.
Doors
Freezer doors and frames require a low voltage heater kit to prevent ice. However, choose between hinges (suitable for doors up to 1m wide) or sliding doors – perfect for larger doors where pallet trucks are used. All doors are fitted with internal safety handles.
Finish
Panels are faced with white, food safe steel. All internal ceiling joints are sealed with mastic sealant and covered with coved PVC mouldings. External joins are capped with white steel or PVC capping.
Lighting
To illuminate your coldroom, sealed strip lights are installed with a door or manual switch. Lighting is provided with its own fused power supply in the control panel.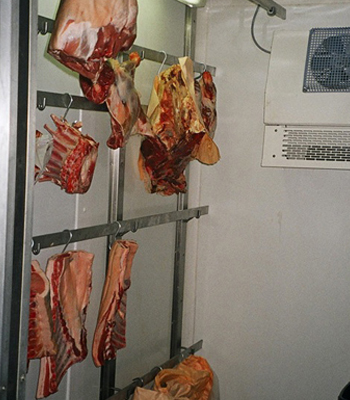 Butchers' coldroom fittings
Fit your coldroom with overhead and side-hanging rails. Galvanized cranked roller hooks are fixed to timber or steel bearers above the room while heavy duty steel or aluminium rails are installed to your requirements.
Plant
We fit new and reconditioned equipment with plants operating on R 134a / R507a refrigerant. All installations have a control panel with a digital readout thermostat plus each circuit has its own MCB. The defrost control is by a time clock and there's a defrost warning lamp. The motor compressor has it's own waterproof isolator.
Save on electricity and cut down the running time of the condensing unit by fitting a condensing unit remote if possible. Condensing unit covers can be supplied, many of which are waterproof.
Outdoor coldroom installations
We provide a suitable roof to protect your outdoor coldroom. This can have a canopy to stop water running onto the door.
Guarantee
12 months parts and labour.